This section contains a few of the amazing prizes you can find in the hunt.
This is the first gift you'll get in the hunt
from Swordthain Creations. It WILL be exclusive to the hunt and will never be for sale.
From Vextra Messing Designs- Garden Table Setting with drinks. 5 prims
A beautiful tattoo skin from Desire Skins.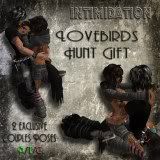 These are just amazing, 2 Exclusive couples poses from Intimidation
.